Ward is a map location for Gears of War: Judgment included in the Lost Relics Map Pack. Ward is an OverRun and Survival exclusive map.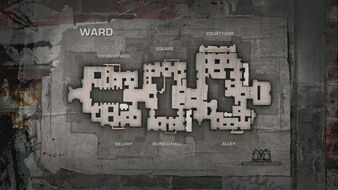 The battle for Halvo Bay was fought on many fronts simultaneously. While most areas of the city fell quickly, a few sections actually had time to mount a defense and fortify against the incoming Horde. Some were even able to push the Locust forces back and regain ground before all was lost. This Overrun map features one such area where the battle was small but intense, and the dedicated forces of the COG army tried to hold off wave after wave of invading forces with little in the way of reinforcements. They pushed the Locust back several blocks before resistance increased and ultimately they found themselves in a fierce tug of war with little hope of success.
You'll fight your way from the grass-covered community park, into the ruins of a plaza that was once known as the 'weekend meeting place', and ultimately into the back alleyways of the residential ward, where this infamous squad of COG soldiers made one last, desperate stand to hold onto a city that was already lost.[1]
Community content is available under
CC-BY-SA
unless otherwise noted.