World of Warcraft: Dragonflight - The Loop
Play Sound

The title of this article is conjectural. Although this article is based on
canonical
information, the actual name of this subject is pure conjecture.
The UIR Machine Gun is a medium machine gun commonly used as a pintle-mounted weapon for either the Asp or the Light Armored Vehicle in the Union of Independent Republics.[1] However, they can also be carried on their own by UIR heavy weapons team.
These weapons are box-fed machine guns that create suppressive fire for the vehicles of the UIR, acting as secondary weapons and are usually, automated or remote controlled.
It's closest counterpart in function would be the COG Machine Gun, used by the Coalition of Ordered Governments Army.
History
[
]
Pendulum Wars
[
]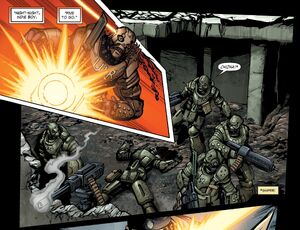 These machine guns were commonly used as heavy support weapons by the UIR when not attached to a vehicle. They were often housed inside buildings, bunkers or behind cover to provide suppressive fire. Usually, these machine guns were supported by a team of Indies carrying Belt-fed Machine Guns to create even more suppressive fire.
The combination of which is lethal as it enlarges the kill-zone and make COG advancement all but near impossible for regular Gears without armored support. In the Skirmish in Ghato City, C Company of the 26th Royal Tyran Infantry was suppressed by a Machine Gun emplacement supported by Belt-fed Machine Gunners. Tai Kaliso fired a Rocket Launcher at them to temporarily halt their firing before Padrick Salton climbed on top of a roof to snipe the machine gunner.[2]
Swarm War
[
]
Multiple destroyed machine guns were found littered throughout OZP-11 in Vasgar, suggesting that Paduk's men destroyed these weapons so it won't be used again by Major Toly's forces during the armed mutiny.[3] These machine guns could also be found still mounted on top of an Asp. Despite this, they cannot be used, suggesting that the weapon is bolted in or is inaccessible.[4]
Behind the Scenes
[
]
They resemble the M2 Browning or any form of box-fed machine guns in the real world.
The UIR Belt-fed Machine Gun maybe a more portable version of this weapon.
See Also
[
]
Appearances
[
]
References
[
]