Raise a Floppa - The Loop
Play Sound
"Outgoing Stim Grenade."
—Damon Baird, throwing a Stim-Gas Grenade
The Stim-Gas Grenade, Stim Grenade, or Revive Grenade is a healing grenade that releases a blue cloud of gas called Stim, that has the ability to heal or revive teammates for a short period of time. Only gibbing attacks, such as Frag Grenades and close range shotgun kills, or headshots will kill a player standing in the stim cloud.
History
[
]
Stim-Gas Grenades were used prominently by COG Medics and the Onyx Guard as part of their weapons arsenal.[3]
Multiplayer
[
]
OverRun
[
]
In the multiplayer modes OverRun and Survival, the COG Medic class has a Stim-Gas Grenade as its special ability, and as such, it must recharge after each use. Injured allies can be healed and any ally that was killed with a non-gib attack can be revived by throwing a stim grenade near them. Keep in mind that dead allies automatically respawn after 10 seconds if not revived.
Versus
[
]
In other Versus modes that allow stim grenades, the gas cloud dissipates much earlier than in campaign or OverRun/Survival. Also, a stim grenade thrown by a player on the red team will release a red cloud, making it easy to differentiate between friendly and enemy stim gas.
On Gears Tactics, Stim Grenades return with its functions intact. They also serve a crucial plot point as a container to house and create Cytostatic Gas Grenades.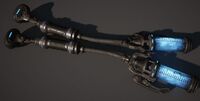 Behind the scenes
[
]
Appearances
[
]
References
[
]