This article is about the Real World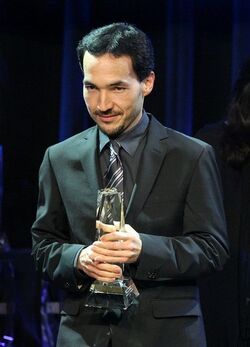 Steve Jablonsky composed the musical score for Gears of War 2 & 3, and has written the scores for many other popular TV shows, movies and video games.
Steve Jablonsky (born October 9, 1970) is an American music composer for film, television and video games. He has been the music director for all the Michael Bay movies produced and directed since Island. He has composed the soundtracks to the movies The Texas Chainsaw Massacre (2003), Steamboy (2004), The Island (2005), and D-War (2007), Transformers (2007), Transformers: Revenge of the Fallen (2009) and Transformers: Dark of the Moon (2011). He was also a contributor on Team America: World Police (2004) among many others. In addition, he helped compose some of the music to the video game Metal Gear Solid 2: Sons of Liberty, and composed the theme music in 2003 for the BBC's Seven Wonders of the Industrial World. He continues to write music for the television show Desperate Housewives (2004-current) since the fourth episode . His track "Trailblazing" served as the opening theme for WrestleMania X8 and WrestleMania XIX. Steve also wrote the music for Command & Conquer 3: Tiberium Wars, taking the place of the former Command & Conquer music composer Frank Klepacki, who was unable to write the game's score due to his involvement with Universe at War: Earth Assault.
Jablonsky studied composition at the University of California, Berkeley, and worked for seven years for Harry Gregson-Williams at Remote Control Productions, the music production company headed by Hans Zimmer. Jablonsky's most recent projects include the scores for the Michael Bay live action feature film Transformers, the South Korean film D-War, Gears of War 2 for the Xbox 360 gaming console, and music for The Sims 3. He works in Hans Zimmer's studio Remote Control Productions. He was mentored by current Remote Control members Hans Zimmer and Nick Glennie-Smith and former members Harry Gregson-Williams and Klaus Badelt.
Community content is available under
CC-BY-SA
unless otherwise noted.