This article is about the Real World
The Snowblind Map Pack is the third downloadable map pack for Gears of War 2. The pack was released on the 31st March 2009 costing 800 Microsoft Points. It was later dropped to 400 Microsoft Points. The pack contains four maps, all with a snow theme. Two of these, Fuel Depot and Courtyard, are remakes of previously released maps, while Underhill and Grind Yard are entirely new.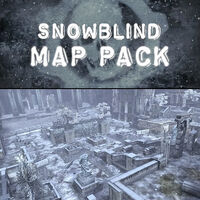 This is essentially the same as it was in Gears of War, but with a wintery theme.
Courtyard is a remake of a map released with the PC version of Gears of War. The is a big rectangle, with teams spawning on the two longest sides. There is plenty of cover, but clear lines of sight make snipers and mortars dangerous. There are stairs to a landing on one edge of the map, which offers a view of the surroundings.
Underhill is dominated by a large enclosed garage, leading out of which are two roads that extend onto an open suspension bridge. There is usually a powerful weapon here, but the player is very exposed. The roads and parking areas that separate the bridge and the garage are dotted with cars that form cover.
Grind Yard is a long industrial corridor full of cover and lined with elevated walkways. Teams oppose each other for the ends of this corridor. In the middle of the map is an elevated tower and some powerful weapons. Opposite this is a high balcony that lines one side of the map.
Community content is available under
CC-BY-SA
unless otherwise noted.