This article, Siege of Nexus, may require cleanup. Deploy Delta Team to East Barricade Academy and retrieve the data immediately!
The Siege of Nexus was a siege of the Locust capital of Nexus by both the COG and Lambent.
Order of Battle
Edit
The Highway and Work Camps
Edit
During Operation: Hollow Storm, Delta Squad was able to locate the Locust Capital, Nexus via the Highway from the entrance of Mount Kadar. Following a clue from the Stranded Chaps, Marcus Fenix and Dom Santiago infiltrated the Locust work camps to try to rescue Dom's missing wife. After fighting a Locust patrol off, Delta located her prison and had to fight a massive Locust attack off on the site while JACK opened the prison. To their shock, Maria was emaciated, tortured, lobotomized and not able to even recognize her own husband. With no other choice, Dom euthanized Maria and he and Marcus decided to go into Nexus with "guns blazing" rather than sneak in.

"Baird here. There's that glyph for 'queen' and 'Imulsion' again... also see 'Nexus' on there again. These are some kind of plans that indicate an attack on the Locust... but not from above, from below. Sure as hell isn't us attacking from below, so who the hell are these plans referring to? Please tell me it's not worms. I'm so sick of worms."
—Baird on the Locust defense map
After battling the Hordes of Drones and Boomers, Delta-One was able to infiltrate the main city and battled across the outer walls of the city. After heavy firefights, Delta was able to deploy JACK's homing beacon which allowed the COG troops to deploy via the Grindlifts inside the Locust city which tested the defenses of the city since the city's defenses are on the lower levels.[1]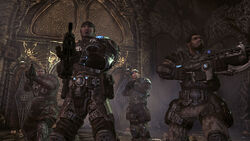 After easily advancing into the Locust capital, Delta-One and the rest of the Gears discovered that the Locust are embroiled in a civil war and it appeared that the Lambent are winning. The Lambent seemed to be taking hold of the city and captured one of it's outer towers. The Lambent are also in the process of capturing another one when Delta-One entered the city. Delta Squad did not meet as much resistance as they would otherwise have thanks to the Lambent forcing the Locust forces to divert their guards elsewhere to stem the tide of the Lambent Drones.
References
Edit
↑

Gears of War 2 collectible Locust Defense plans
Community content is available under
CC-BY-SA
unless otherwise noted.