Fire Emblem Warriors: Three Hopes - The Loop
Play Sound
The Serrated Knife is a large dagger most infamously wielded by General RAAM of the Locust Horde. This knife was the primary close combat weapon for RAAM and his personal execution tool. Many Gears had seen their end from this knife, including Alicia Valera who was effortlessly killed in just one stroke by RAAM wielding the knife. Most famously killed was Lieutenant Minh Young Kim, who was stabbed to death by the Locust General.[1] 
Although it is a knife in the hands of RAAM, by human standards, it is a short sword. As its name suggests, the knife was serrated, making sure every wound would lacerate and, if the victim is not stabbed to death or beheaded, would eventually bleed to death.
Strategy
[
]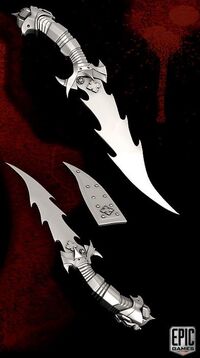 The knife made its debut in RAAM's Shadow, where it is the primary close combat weapon for RAAM. The knife is a dangerous weapon, requiring one-two hits to either down a Gear or bisect him. RAAM is also capable of charging, turning the knife into the bayonet charge of a Retro Lancer, though needing much less distance to impale a Gear due to his immense strength and speed despite his large frame. As RAAM's primary range attack is his command over Kryll rather than his own Troika, the knife serves as a brutal backup weapon if his Kryll needed to be recharged.[2]
Execution
[
]
The knife is notable for having its own unique execution. When next to a downed Gear, RAAM would lift the Gear up with one hand on the Gear's head. The Gear would struggle to free himself to no avail before RAAM would methodically use the knife to behead the Gear. RAAM would later nonchalantly throw away the decapitated head with little care.[3]
References
[
]