A Rat Bike was a Coalition of Ordered Governments vehicle, used for fast insertion missions and scouting purposes. Most commonly equipped with a detachable sidecar on the right side of the bike. When not equipped with the side car it was able to handle dense woodland.
History
[
]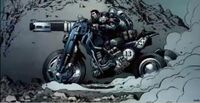 Locust War
[
]
Mission to Montevado
[
]
After Delta-One and Sigma-One escaped a Brumak, they discovered that Delta's APC was too damaged to repair. Michael Barrick then found two Rat Bikes with attacked sidecars in a nearby shed, with just enough fuel in them for Delta to reach Montevado. Marcus and Dom rode on one bike, while Barrick and Jace went on the other bike.[1]
Lambent Pandemic
[
]
Battle of Vectes
[
]
During the Stranded Insurgency, a rat bike was used by Pvt.Samantha Byrne, who scouted the island of Vectes with it. When the Battle of Vectes began, she drove the Rat Bike through dense woodland to assist Delta-One in fighting a group of Stranded. When she arrived, she rammed into one of the Stranded with the Rat Bike, which severely injured him.[2]
Battle of Pelruan
[
]
Sam rode her Rat Bike to the town of Pelruan several weeks after the Battle of Vectes.[3] During a Lambent attack on the town, Sam used the Rat Bike to circle around the Polyps that were released by a Lambent Leviathan, firing into them with her Lancer.[4] She later drove the Rat Bike back to Vectes Naval Base.[5]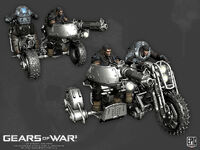 Sidecar
[
]
When equipped with the sidecar the Rat Bike was able to carry two people one person riding the bike while the other person sat in the sidecar and operated the large cannon attached to it. The sidecar was able to spin 270 degrees around.
Known Rat Bikes
[
]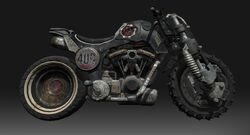 Behind the Scenes
[
]
Marcus and Dom were originally intended to use the never-implemented Rat Bike during an on-rails sequence immediately preceding Mercy in Gears of War 3.[6]
References
[
]