World of Warcraft: Dragonflight - The Loop
Play Sound
RAAM's Troika is the heavily modified and custom-made Troika Heavy Machine Gun gifted to General RAAM for his accomplishments during the Lambent War and the ensuing Locust War. This absurdly powerful machine gun could only be wielded by the sheer strength of RAAM and was his primary range weapon throughout his time post-Emergence Day.
Background
[
]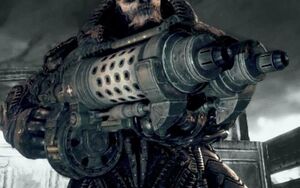 This handheld Troika is made up of two primary weapon design. There is the obvious double-barrel of the Troika and its ammunition, but there is also the stock and drum magazine of the Boomshot Grenade Launcher.
The utilization of a Boomshot's stock, allows RAAM to reliably hold this weapon, in contrast to the stockless Troika turret. The Boomshot's magazine has also been modified to carry a large amount of Troika ammunition.
In order to reduce weight, the Troika's shield has been removed, owing to the fact that it would obstruct RAAM's field of vision as well as the fact that RAAM's Kryll shield already made the Troika's shield obsolete.
Strategy
[
]
This machine gun is extremely dangerous, combining the firepower and close-range lethality of a Troika with the mobility of a Boomshot. The sheer recoil would have made this weapon impractical, if not for the walking giant that is RAAM.[1]
To avoid his weapon spray, it is advisable to take cover as soon he is out of range from either his Serrated Knife or his Kryll. RAAM would attempt to spray his weapon over head until it overheats. When it does overheat, you are given a window of opportunity to throw a grenade/explosive to scatter the Kryll. RAAM would now be vulnerable to counterfire. Repeat until he drops dead.[2]
Behind the Scenes
[
]
Curiously enough, while RAAM was already shown to use the weapon on Emergence Day, in RAAM's Shadow, he lacks this weapon. This could be due to time constraints or budgetary issues to design an entirely new weapon.[3]
It is unknown if RAAM owns exclusive access to this, or other large high ranking Locust members such as the even more gargantuan Sraak were also given the privilege to wield such a weapon.
The weapon is apparently pump-action, given that RAAM pumps the two barrels before fighting Delta Squad. It is possible that this is a safety mechanism to ensure the the gun doesn't misfire in times of peace.
References
[
]