'Gears of War 3: Raam's Shadow' Trailer
Play Sound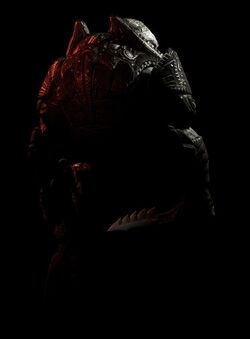 "Lemme tell ya somethin' about war... War ain't always about fightin'. Blood, bullets, death, yeah-yeah, that's part of it... but is sure as hell ain't all of it. Sometimes it's knowing when to turn tail... and runnin' your fucking ass off. Storm's about to hit."
RAAM's Shadow is the second installment of downloadable content for Gears of War 3. The pack was released on December 13, 2011 for 1200 Microsoft Points; if the Gears of War 3 Season Pass has been purchased, RAAM's Shadow can be downloaded for free if the player goes to the main menu. The pack features a three-hour campaign set before the original Gears of War, following the exploits of Zeta Squad (Michael Barrick, Minh Young Kim, Tai Kaliso, and Alicia Valera), and also contains six multiplayer character skins, one weapon skin set (Chocolate) and additional achievements worth 250 Gamerscore.[1]
Campaign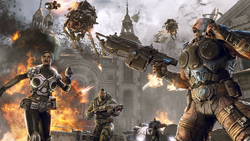 "RAAM's Shadow drops players into the events nine years post-Emergence Day, as Zeta Squad is enlisted to evacuate Ilima City and protect the citizens against a Locust Kryllstorm. Taking on the infamous Locust leader from Gears 1, General RAAM, Zeta is led by Lt. Minh Young Kim (Gears 1) and comprised of familiar faces such as Michael Barrick (Gears of War comic series) and Tai Kaliso (Gears 2), and also includes a new female comrade, Alicia Valera."[1]
Uniquely,it also puts you in the perspective of RAAM,including allowing the player to utilise his ability to control the Kryll and use it as a weapon against the humans.
Appearances
By type
Characters
Creatures
Events
Locations
Organizations and titles
Vehicles and vessels
Weapons and technology
Miscellanea
Character Skins
Weapon Skins
Main article: Weapon Skins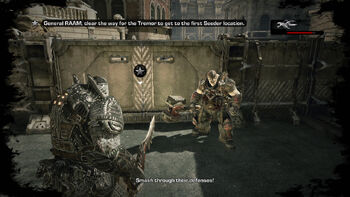 Trivia
Instead of the standard Hammer of Dawn mechanic, RAAM's Shadow introduces a new top-down view for targeting. You literally control the Hammer of Dawn satellite from up in space using the Mobile Command Center.
Michael Barrick is the main character despite Minh Young Kim's role as Zeta Leader. And of course, players take control of the rest of Zeta in Co-op.
Players eventually encounter a young, skinnier Jace Stratton armed with a baseball bat during a COG portion of the campaign, before taking up Valera's Lancer.
Originally, RAAM's Shadow was going to have three separate campaigns during the Fall of Ephyra. The original campaign was to be about Marcus Fenix, Tai Kaliso, Jonathan Harper, and Michael Barrick trying to hunt RAAM. The second campaign was to follow them to East Barricade Academy, which ended with Marcus, Dominic Santiago, Tai Kaliso, and Jace Stratton defending Haldane Hall and would explain why he went to prison. The third campaign was about the Kryllstorm invasion in Tollen instead of Ilima. The first and third campaign were essentially combined, but focused on Zeta Squad evacuating people during the Evacuation of Ilima. The second campaign, defending Fenix Estate, was used in the Troubled Past chapter in Gears of War 3. When the focus was changed to Zeta Squad, it was originally going to be Michael Barrick, Alicia Valera, Clayton Carmine, and Jonathan Harper. Clayton Carmine and Jonathan Harper were then switched out with Tai Kaliso and Minh Young Kim.
RAAM's gameplay is drastically different from the average soldier. He is surrounded by an aura of Kryll which acts as a bullet sponge while explosions and fire deal the same damage. RAAM can "blast" a column of Kryll at targets, which rips them down to the bone in seconds. Players will never run out of Kryll, but swarm ability acts on cool-down. RAAM uses his massive sword in close-quarters combat; he can either swipe it like the Cleaver or charge/impale enemies Retro-Lancer style. RAAM can also preform executions on downed COG.
If you're playing co-op, teammates will assume the control of two Mauler Elites and one Theron Elite. The players who play as the Maulers can reflect incoming bullets at opponents with their Boomshields while the Theron Elite wields a Retro Sawed-Off Shotgun that comes with two blades; allowing players to retro-charge opponents and shoot them off the blades. The Retro Sawed-Off Shotgun remains a Campaign only weapon, as Cliff Bleszinski stated on Twitter that the "Sawed Off doesn't need any help!" [2]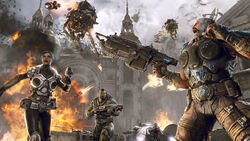 Behind the Scenes
Jonathan Harper was originally going to be in Kim's place, but the writers decided fans would like to see Kim again since RAAM was in it too.[4]
At one point during the development of RAAM's Shadow there was talk of having Clayton Carmine appear at some point, but that idea was scrapped. In the end the writers were happy with the cast they already had.[4]
Joshua Ortega stated that "Barrick's kind of the Marcus, Valera's kind of the Dom" of RAAM's Shadow.[4]
The time stamp dates the events of RAAM's Shadow "shortly after E-Day," however it has been confirmed that the events take place 9 A.E.
References