This article is a

Stub

and needs your help. Please improve it by adding more information.
"Did their duty. Perished with honor. The body dies. The deed endures. They found honor in war here a defender of the COG at last rests. Steel true. Blade straight. Departed from the dwelling of those gone before. They died so that we might live. In death. Finally, Peace."
—The engraving on the main tombs
The Plaza for the Tyran Dead was a memorial in Halvo Bay for Tyran Gears who were killed during the Pendulum Wars. The plaza had onyx slabs bearing the names of Gears who had died in famous battles, including the Siege of Anvil Gate and the Battle of Aspho Fields. During the Destruction of Halvo Bay, the Plaza was the sight of a battle between Locust and Coalition of Ordered Governments, with Col.Ezra Loomis and Kilo Squad killing General Karn. The battle caused heavy damage to the plaza, with several memorial slabs being destroyed and many more damaged.
Memorials
[
]
Battle of Aspho Fields
[
]
"Heroes of the Battle of Aspho Fields."
—Opening of the memorial
"From their courage, legends will grow."
—Closing of the memorial
Battle of Autrin
[
]
"Heroes of the Battle of Autrin"
—Opening of the memorial
"They perished too far from home."
—Closing of the memorial
Closing of the memorial
Battle of Berephus
[
]
"Heroes of the Battle of Berphus."
—Opening of the memorial
"They fought, They died, They live forever."
—Closing of the memorial
Battle of Irohma Island
[
]
"Heroes of the Battle of Irohma Island"
—Opening of the memorial
"The body dies. The deed endures."
—Closing of the memorial
Battle of Maranday
[
]
"Heroes of the Battle of Maranday"
—Opening of the memorial
"May the sun and moon alike shine on these names"
—Closing of the memorial
Battle of Ragani
[
]
"Heroes of the Battle of Ragani"
—Opening of the memorial
"As long as we endure, they will be remembered."
—Closing of the memorial
Battle of Shavad
[
]
"Heroes of the Battle of Shavad"
—Opening of the memorial
"Gentle earth, rest quietly on these Gears"
—Closing of the memorial
Fall of Mendurat
[
]
"Heroes of the Fall of Mendurat."
—Opening of the memorial
"They did their duty, they will not be forgotten."
—Closing of the memorial
Siege of Anvil Gate
[
]
"Heroes of the Siege of Anvil Gate"
—Opening of the memorial
"They hope for nothing. They fear nothing. They are free."
—Closing of the memorial
Third Battle of the Plateau
[
]
"Heroes of the Third Battle of the Plateau"
—Opening of the memorial
"Unafraid in life, undefeated in death"
—Closing of the memorial
Behind the Scenes
[
]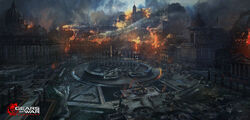 References
[
]