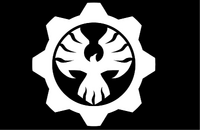 The Phoenix Omen[1] is the official emblem of the restored Coalition of Ordered Governments following the end of the Locust War and Lambent Pandemic. Like the previous COG emblem, it features a gear with eight teeth representing the Octus Canon, but the empty center of the gear is filled with a stylized phoenix symbolizing the COG's rebirth.
As of 42 A.E., the Phoenix Omen can be seen in new COG architecture and statues as a recurring motif, and is also emblazoned on COG Armor.[2][3]
Behind the scenes
Edit
The Phoenix Omen subtly incorporates a skull into its design, evoking the Crimson Omen.[4]
See also
Edit
References
Edit
Community content is available under
CC-BY-SA
unless otherwise noted.