A "helping" hand from the Stranded.
Walk forward with Dom as there is a brief conversation between Dom and Franklin over the com, and then bust through a doorway on the left at the end of the street. As you make your way through the building, the brief chapter comes to an end and Lethal Dusk begins.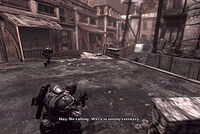 Transcript
Edit
(Playthrough)      
Dominic Santiago: "So where are we going. Franklin?"
Franklin Tsoko (COM): "Chap's Gas Station! Corner of F Street and 13th."
Dominic Santiago: "There's going to be a lot of Locust between there and here."
Franklin Tsoko (COM): "Shit, you got that right. You need to hit our checkpoints for some ammo. The first one's by the river, so if I was your ass, I'd get my ass over there, pronto. You dig?"
Dominic Santiago: "It's getting late."
Marcus Fenix: "Let's find that checkpoint."
There is no action or challenge to this Chapter.
Community content is available under
CC-BY-SA
unless otherwise noted.