Fire Emblem Warriors: Three Hopes - The Loop
Play Sound
"Creative assholes, aren't they? Looks like they're using old Lancers?"
—Baird, upon first seeing a Turret in action
The Multi-Turrets were multi-weapon, multi-purpose stationary turrets created by the Savage Locust as a replacement for the Troika, and could have various weapons mounted on them, such as Mk 1 Lancer Assault Rifles, Mk 2 Lancer Assault Rifles (multiplayer only), Gnasher Shotguns and Boomshot Grenade Launchers.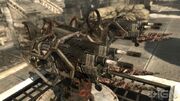 History
[
]
What the Savage Locust lack in technology, they more than make up for in ingenuity. With no Troika Turrets to be found, they created improvised gun racks to mount and fire multiple weapons simultaneously. They can swap in whatever weapons they can salvage, whether it be Retro Lancers, Gnasher shotguns or the Boomshot Grenade Launcher.[1]
The Retro Lancer and Boomshot variants were also mounted to the decks of Gas Barges as defensive and offensive weapons. They are often manned by Grenadiers or Queen's Guards.
Multiplayer and Horde 2.0
[
]
This article is a

Stub

and needs your help. Please improve it by adding more information.
The Retro version of the Multi-Turret is available to buy in Horde 2.0 in Gears of War 3 for 1,500 dollars. Turrets are used for decimating small groups of enemy troops, especially Wretches. They are also useful when a Brumak comes into the fray, as you can use the Multi-Turret to destroy the Brumak's wrist-mounted chain guns. The Retro Lancer Multi-Turret upgrade is the initial manable turret, which costs $1500 to build and requires a Level 4 Barrier. It holds 600 rounds of ammunition.
Turrets
| Level | Fortification | Build Cost | Spending Requirement | Notes |
| --- | --- | --- | --- | --- |
| 1 | Retro Lancer Turret | $1500 | Level 4 Barrier | Holds 600 rounds of ammunition. |
| 2 | Increased Accuracy | n/a | $15,000 | |
| 3 | Lancer Turret | $2500 | $50,000 | Holds 600 rounds of ammunition. |
| 4 | Repair Cost Reduced | n/a | $90,000 | |
| 5 | Troika | $4000 | $140,000 | Holds 400 rounds of ammunition. Enemies will not be downed. |
| 6 | Repair Cost Reduced | n/a | $200,000 | |
| 7 | Armored Troika | $5000 | $270,000 | Holds 500 rounds of ammunition. Enemies will not be downed. |
| 8 | Repair Cost Reduced | n/a | $360,000 | Command Center Unlocked (Requires Horde Command Pack DLC). |
Appearances
[
]
References
[
]