"It was tough not to feel disappointed. Three weeks out in the field, and we'd only found one Gear. One survivor. The APC was packed with ammo and supplies, but still...we needed people a lot more than we needed supplies"
— Jace Stratton on his disappointment of the mission
The Mission to the Pirnah Badlands was an event which occurred two months after the Lightmass Offensive. Spanning several weeks, several Gears are ambushed by the Locust forces until High Command sent Delta-One with new recruits in. Delta was only able to find Michael Barrick as a lone survivor of Echo-6. The squad was going to relocate to Jacinto until they picked a distress beacon up which turned out to be a Locust ambush, leaving a member of Delta, Gil Gonzalez killed.
Order of Battle
Edit
The mission to the Pirnah Badlands was a rescue mission to find the missing Gears in the aftermath of the Lightmass Offensive that turned into a minor skirmish. After several Gears went missing in the Badlands, HQ decided to send Delta-One to locate them and bring any survivors back[1].
Initial Deployment
Edit
After COG HQ lost contact with several Gears including Echo-Six, Command sent Delta-One with an APC loaded for a weeks long mission to the Badlands. After entering the area and a week into the mission, Delta discovered that all of the missing squads are killed. After defeating a swarm of Drones, Delta-One was able to locate Michael Barrick[1]. After recovering him, Delta collected all COG tags and ammo and pulled back to the APC to head back to Jacinto. However, on the way, they picked a distress beacon up on the shortwave transmitting the COG distress frequency.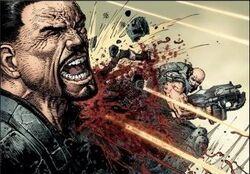 After locating the beacon, Fenix discovered that it was on full power and realized that the situation was a trap. A Sniper Drone took Gil Gonzalez down and the rest of Delta are being pinned down by the Drones and the E-Holes are popping up. While being flanked from the right, Fenix and Dom were able to lead a counterattack while Jace took the sniper out and Barrick tried to stop Gil's bleeding. However, the three Boomers[1][2] entered the fray. With Barrick, Gil and Jace's cover lost to the Boomers, Fenix used a Bolo grenade as a distraction. With Barrick chainsawing a Boomer, Fenix killed another with a Bolo Grenade while Dom gunned the last one down.[2] However, Gil lost too much blood and died from his wounds.
Aftermath
Edit
Delta-One was able to make back to Jacinto City, carrying the body of Gil Gonzalez. Fenix gave Gil a proper funeral and the squad was allowed one week to rest. Fenix went to the The Rusty Nail to think over losing another Gear while Jace would go to the orphanage, leaving Dom to keep to himself just thinking about Maria. After the week's rest, Barrick is assessed to Delta-One and sent to Montevado on a recon mission.
References
Edit
↑

Gears of War:Hollow Issue 5
Community content is available under
CC-BY-SA
unless otherwise noted.