Raise a Floppa - The Loop
Play Sound
Memento Mori is an Easter Egg weapon found in Act 3 Night Terrors. It is a translucent reskin of the Boltok Pistol with white highlights that insta-kills all types of enemies.
This weapon is a single-shot pistol with 18 rounds of ammunition. You can save the weapon throughout Act 3, but you are unable to refill ammo. So use the weapon wisely.
Getting the Weapon
[
]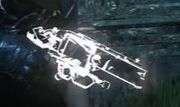 To get the weapon, play Night Terrors on Insane and go to where the cemetery firefight is. You will see gravestones with the words: MA, R, I and A respectively scattered throughout the area. Shoot/destroy these gravestones in the order that spells Maria (a reference to Maria Santiago).
Once this is done, the map would be covered in fog as all combating enemies would suddenly die. Two ghostly orange figures would appear on each end of the cemetery in front of the gate. A replay of the scene where Dom euthanized his wife from Gears of War 2 is played before the two ghosts embrace each other.
A shot is than heard (a reference to the euthanization via Boltok) before the figures transform into the family photo of Dom and Maria, with the Memento Mori appearing next to the photo.
Behind the Scenes
[
]
A memento mori is an artistic or symbolic reminder of the inevitability of death, a clear reference to the tragic death of both Maria and Dom.

It may also be a reference to the fact that anyone facing down the barrel of this pistol would face instant death regardless of health and defense.
Appearances
[
]