This article is about the Real World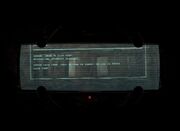 The Last Day was a viral promotion of Epic Studios for the award winning game Gears of War 2. The Last Day site allows the player take control of a JACK unit and you are allowed to move across (scripted) the destroyed city of Tollen and are able to click on 26 different tabs and several Omen symbols spray painted on the walls of the city.
The marketing campaign required users to find or be given COG tags and to input the CSID on the tag into the Last Day site. The COG tags were sent to people in the media and a number were planted in major cites across the globe. Several COG tags are still at large and have not been found.
Tabs
[
]
The Last Day features 26 Tabs; these are in the form of blue lights around the side of the users visor. Each tab has one interactive element within it which features information regarding the COG's struggle against the Locust Horde. You can cycle through these tabs in any order jumping to any at will.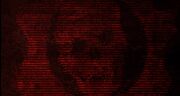 Crimson Omens
[
]
First Omen is before Tab 4 Phone
Second Omen is on the fueling station at Tab 8
Third Omen is on the fall behind the fallen overpass
Fourth Omen is on a broken wall at Tab 19
Fifth Omen is next to the Longshot Sniper Rifle at Tab 24
Gallery
[
]
External links
[
]
References
[
]