Gridlock is a multiplayer-only map. Its character can be seen as the opposite of Clocktower, since it is much narrower. However, the weapons are situated in the same pattern as Clocktower: Longshot Sniper Rifle at the top, frag grenades at the center, and Boomshot Grenade Launcher at the bottom.
Gears of War 2
This map made a return in Gears of War 2 as part of the Flashback Map Pack. It is practically the same map but with a slight graphical update. The weapon layout is similar to the original design in Gears of War, but with the Mid Tower Sniper spawn pushed more out into the open, allowing players an easier shot on players picking up the weapon located in the tower. The frag grenades of Gears of War have also been replaced with an Ink Grenade and Boom Shield cycle, while the Hammerburst spawns (now a starting weapon in Gears of War 2) have been replaced with Boltok and Gorgon Pistol spawns.
What's New? (GOW2)
Gears of War 3
Gridlock returned in Gears of War 3, set at night time and with destroyed cars in the streets.
What's New? (GOW3)
Gears of War 4
Gridlock returned in Gears of War 4 as the only launch map seen in a previous game.
What's New? (GOW4)
Behind the scenes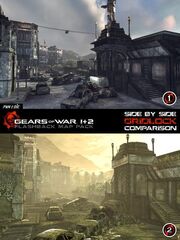 References
↑ Gridlock Mad World Easter Egg Tutorial - YouTube
↑ Gears of War trailer - YouTube
Community content is available under
CC-BY-SA
unless otherwise noted.