Gearspedia is a collaborative encyclopedia that aims to create the best resource for the Gears of War series of games, and the universe they take place in. We are currently editing over 2,951 articles.
The Gears of War series began with the original Gears of War, a third-person shooter released in 2006. It was followed by a number of sequels, including Gears of War 2 (2008), Gears of War 3 (2011), Gears of War 4 (2016), and Gears 5 (2019), as well as several spin-off titles, such as Gears Pop! (2019) and Gears Tactics (2020). There are also several books and comics about the Gears of War universe.
Contents
Article of the Month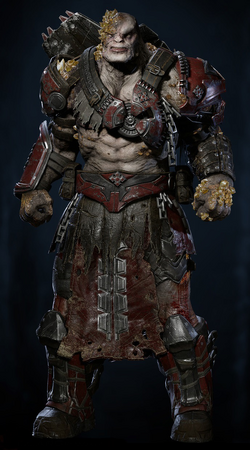 "The path to your mother lies through me."
—The Speaker
The Speaker was a Scion who was responsible for the kidnappings at the Outsider village. As a Scion and former Locust, The Speaker was a large, physically powerful and seemingly intelligent commander of the Swarm forces operating out of the Fort Reval and Tollen Dam nests.
Did you know...
… that the Swarm are the new antagonists?
Recent news
Join us!
All pages can be edited and you are welcome to join us and contribute to this wiki. Everyone is free to create a new page or edit an existing one. If you have any questions about the wiki or helping out, you can ask one of the administrators of Gearspedia. We'll be happy to help!
If you want to experiment with editing a wiki, please do it in the Sandbox, not in articles. Please do not do it in the articles because we love our articles! Go help Gearspedia please!
Helping out
Gears of War Fanon
Gears of War Fanon is our sister site. There you can write, post and read fan fiction dedicated to the Gears of War universe.
Infinity Blade
The Infinity Blade Wiki is an affiliated site. There you can read and edit articles related to the Infinity Blade universe.