This article is about the Real World
Gears of War: The Rise of RAAM Part One is the first of four comic issues that make up The Rise of RAAM story arc. It was released in January 2018.
The most iconic villain of the Gears of War universe takes the spotlight! Years before he became the bane of humanity on Emergence Day, RAAM rose through the ranks to take leadership of the Locust Horde armies thanks to his intelligence, strength, and ruthlessness. Now, witness that swift and brutal ascent in... The Rise of RAAM![1]
By type
Characters
Creatures
Events
Locations
Organizations and titles
Weapons and technology
Miscellanea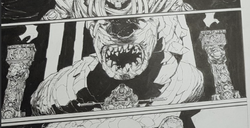 On the original inks for the first page Skorge is depicted with his Dual Chainsaw Staff on his lap in the third panel. However in the final printing he doesn't have it.
Community content is available under
CC-BY-SA
unless otherwise noted.