Fire Emblem Warriors: Three Hopes - The Loop
Play Sound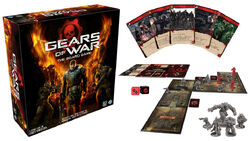 "Gears of War™: The Board Game, designed by Corey Konieczka, is based on the wildly popular third-person shooter by Epic Games. One to four players take on the roles of COG soldiers cooperating to destroy the Locust horde, and must work together to complete missions against an ingeniously challenging and varied game system. In Gears of War: The Board Game, you'll relive classic moments from Gears of War™ and Gears of War 2™. Roadie Run into cover, spray your enemy with blind fire, or rip him in half with your Lancer's chainsaw!"
—Fantasy Flight Games Gears of War: The Board Game is a strategic board game based on Gears of War and its entire series. It was released in 2011 by Fantasy Flight Games. It was designed by Corey Konieczka.[1]
The game package is in a large, detailed box, and includes over 30 plastic figures, over 200 cards, 35 Locust AI cards, 17 double-sided map tiles, almost 75 tokens and markers, 1 Mission Reference Sheet, 5 Attack Dice and 4 Defense Dice, and 1 Line-of-Sight Ruler.
The game is a strategy based, cooperative board game for up to four players, including the option for solo play. Each player takes control of a Gear (represented by a miniature pre-painted in red), fighting their way through randomly generated maps filled with Locust soldiers (represented by a miniature pre-painted in light gray). These are controlled by an artificial intelligence (AI) deck of cards: after each player finishes his or her turn, he or she draws a card from the AI deck and takes actions for each Locust creature. Players play cards and roll die to take actions and to resolve shooting and defense. The games proceeds until the player team successfully completes the mission; there are seven of them, each featuring different objectives and enemies in randomly generated map layouts.[2]
Gameplay
[
]
The game can be played by up to four players, with the options of playing either solo or cooperatively.
Expansions
[
]
Since its launch the game has received one expansion, Mission Pack 1, which brought more weapons, two new missions and new enemies, including General RAAM.[2]
Videos
[
]
References
[
]