Fire Emblem Warriors: Three Hopes - The Loop
Play Sound
This article is a

Stub

and needs your help. Please improve it by adding more information.
"Rise Up and Fight"
—Gears Tactics slogan
Gears Tactics is a Gears of War turn-based strategy game that was released on April 28th, 2020. Gears Tactics is going to launch on PC first before making it's way to the consoles.
The game takes place twelve years before the original Gears of War, centered around a new squad led by Kait Diaz's father, war-hero Sergeant Gabriel Diaz as he leads the mission to assassinate the Locust scientist, Ukkon to prevent his genetically-engineered monsters from destroying the last of the human cities following the Hammer of Dawn Strikes. The squad can be customized and recruit a number of different A.I. characters. The squad also consists of former New Hope Research Facility guard, Sid Redburn and former Stranded, Mikayla Dorn.[1]
Summary
[
]
Gears Tactics is set 12 years before the first Gears of War. Cities on the planet Sera are beginning to fall to the monstrous threat rising from underground – the Locust Horde. With the government in disarray, a squad of survivors emerge as humanity's last hope. Play as Gabriel Diaz, recruiting, developing and commanding your squads on a desperate mission to hunt down the relentless and powerful leader of the Locust army: Ukkon, the mastermind monster who makes monsters. Against all odds and fighting for survival, outsmart your enemy in uniquely brutal, turn-based tactical combat.
Immersive and character-driven story: Play as the defiant soldier Gabe Diaz, rescuing and building your troops in a journey of leadership, survival and sacrifice.
Customizable squad and equipment: Prepare your troops to face tough enemies, upgrading their skills and outfitting them with loot collected in challenging missions.
Aggressive gameplay: Command your squad in fast paced, turn-based battles, advancing and surviving intense and visceral encounters with the unstoppable, swarming enemy.
Massive boss battles: Defeat towering deadly bosses that defy your strategies and completely change the scale of the battle.
Plot
[
]
One year after Emergence Day, Chairman Richard Prescott delivers one final message before the launch of the Hammer of Dawn Strikes, set to destroy the Locust Horde in all major areas outside of the Jacinto Plateau.
Various squads are stationed in ground-zero areas to immediately sweep the area of Locust survivors. Awaiting their mission, Alpha Squad sits in a bunker of the Aldair Army Base along with the head of the Motor Pool, Sgt. Gabriel Diaz. Shortly before the Hammer Strikes, Major Sid Redburn arrives with a mission to retrieve top-secret files from General Becket's office at the CIC building in Aldair. Arriving to the CIC building, Sgt. Diaz finds the top-secret files as intel on a Locust scientist named Ukkon. Just as the Hammer strikes begin on Aldair, Sgt. Diaz and Major Redburn take shelter in a bank vault. Afterward, they return to the Aldair base to discover it destroyed not by the Hammer, but by Ukkon. Sgt. Diaz contacts Chairman Prescott, who reveals that Ukkon is responsible for the various creatures that the Locust use as weapons, and needs to be stopped. He assigned Sgt. Diaz because he is unable to provide him with reinforcements and supplies, but believes in him because of Sgt. Diaz's resourcefulness during the Battle of Gatka Ridge.
Sgt. Diaz and Major Redburn begin their mission with recruiting their task force by first looking for Echo-Five, who was also stationed in Aldair as a mop-up crew. Upon discovering survivors Marcella Trinh and Tyrone Shephard, they reveal that they were ambushed. At the ambush zone, they discover most of Echo-Five was killed - realizing that Ukkon is wiping out the mop-up crews and doing so by using enhanced Locust with Imulsion. Major Redburn then discovers at least two survivors taken as prisoners. After rescuing the two other survivors of Echo-Five, they receive a distress call from the industrial district. Upon arriving, they find a Stranded group under assault by Locust forces. After rescuing the civilians, their leader, Mikayla Dorn, agrees to her and her people joining Alpha in their mission to kill Ukkon, and offers to show them where he frequents. Locating him in the city of Claybourne, Mikayla shoots Ukkon in the mouth, supposedly killing him. However, Ukkon comes back to life and heals instantly. After the attack, Sgt. Diaz realized the COG knew more about Ukkon and their secrets put his squad in danger.
Realizing that they weren't ready, Sgt. Diaz relocated his squad and the Stranded to the desert of Vasgar to train them and prepare for the fight against Ukkon. Two weeks later, several Stranded abandon the camp but are taken prisoner by Locust forces. After rescuing the prisoners, they find an empty canister that was used by Ukkon to inhale. Mikayla translates the Vasgari on the canister and traces it back to the Nedroma Health Institute. They discover that the Nedroma Health Institute was a quarantine zone and research facility for Rustlung and that the canister, when full, contains an immune booster that only works against Rustlung, but has devastating side-effects. Realizing Ukkon is dying of Rustlung and in need of these canisters, they set up a trap in Imtik for Ukkon, using the canister as bait. Upon Ukkon's arrival, they successfully trap Ukkon. However, Ukkon reveals that he knew Major Redburn. Major Redburn then knocks Sgt. Diaz out. Mikayla tries to stop Major Redburn, as he plans on taking Ukkon alive to Ephyra. However, Ukkon manages to escape. Sgt. Diaz and Mikayla then detain Major Redburn, with orders from Chairman Prescott to execute him.
After being detained, Major Redburn reveals to Sgt. Diaz and Mikayla that when he was younger, he was stationed at the New Hope Research Facility in Tyrus, as it was supposed to use genetics to cure Rustlung. However, the lead scientist, Dr. Niles Samson, believed that he could further evolve humanity into greater beings and possibly use them to end the Pendulum Wars. He then mutated human children ill with Rustlung with the DNA of Hollow Creatures, transforming them into mindless, feral monsters called Sires. However, one Sire retained its intelligence, Ukkon, and also gained the ability to heal instantly when exposed to Imulsion. The events were covered up by Chairman Monroe and every Chairman after him. And now, the descendants of the Sires have been destroying humanity. Major Redburn wanted to bring Ukkon alive to show people the truth and reveal that real military instinct will win the war and not corrupt politicians. After recovering files left by Major Redburn at an outpost in Winlock, Sgt. Diaz and Mikayla realize he was telling the truth - that the COG created the Locust. Sgt. Diaz then contacts Chairman Prescott to challenge his knowledge of New Hope. Due to the secrecy needed, Chairman Prescott attempts to kill Diaz and his squad using the Hammer of Dawn.
Sgt. Diaz pardons Major Redburn, realizing that they are no longer part of the COG. Major Redburn reveals that he knows how to kill Ukkon. The scientists at New Hope created a fail-safe against Ukkon called Cytostatic Gas which can stop his healing process when exposed to it. Major Redburn is able to create it and Mikayla weaponizes it into grenades. The next step for them is to find Ukkon. Upon rescuing prisoners from a Locust prison camp, they find a young woman named Reyna Torres who resided in an abandoned UIR Laboratory with her father, but it was taken over by Ukkon and her father was killed. Sgt. Diaz rallies all of his recruits to attack Ukkon's laboratory as Sgt. Diaz, Major Redburn, Mikayla and Reyna led the attack on Ukkon. After exposing Ukkon to the gas and killing his Hydra, Ukkon is finally killed by Reyna, avenging her father. Reyna joins Sgt. Diaz's group as they are not with the COG, but are determined to help destroy the Locust. Meanwhile, Reyna admires her amulet that she took back from Ukkon's body as it belonged to her mother who she never knew.
Gameplay
[
]
Classes
[
]
Heavy
Scout
Sniper
Support
Vanguard
Cases
[
]
Cases is progression reward system in Gears Tactics. Cases cannot be bought, they have to be earned by playing through missions. Cases reward the player with equipment that feature bonuses like ability buffs and specific weapon modifications.
Case item can be Common, Rare, or Epic in ascending level of power. Better than even Epic, Legendary equipment can be obtained by completing certain missions.
Downing
[
]
Most units in Gears Tactics have a segmented health bar. When their health is reduced to zero, units will go down. They will permanently lose one segment of their health bar (or for the rest of the mission, in the case of Gears) and be healed to their new full HP before taking any "overkill" damage from the source that downed them. Units with only one segment remaining will be killed instead, as will units that are already down when their HP hits zero. Downed units on either side can be revived by their allies or executed by their enemies. When an enemy is executed by a Gear, all other Gears will gain a bonus action.
Appearances
[
]
By type
Characters
Creatures
Events
Locations
Sera

Vasgar

Badlands

(First appearance)

Badlands Way Station

(First appearance)

UIR Chemical Weapons Depot

(First appearance)

Imtik

(First appearance)

Winlock

(First appearance)

Winlock Outpost

(First appearance)

Zenic

(First appearance)

Zenic Laboratory

(First appearance)

Zenic Outpost

(First appearance)
Organizations and titles
Sera Freight Global

Stranded

Alpha Convoy Camp

(First appearance)

Mikayla's Outpost

(First appearance)
Vehicles and vessels
Weapons and technology
Miscellanea
Behind the Scenes
[
]
It is not clear what relationship, if any, the game has with the canceled Gears of War: Tactics game.
In June, 2019, it was reiterated that the game was still in development, but Gears 5 was getting the majority of development focus until September.[2]
In the 399th episode of IGN's "Unlocked" podcast, Rod Fergusson, the studio head of The Coalition, made it clear that the game is going to launch on the Xbox consoles at some point[3].
While Augustus Cole is a playable character in the campaign and cannot be allowed to die, his part in the story is non-canon, as he is a bonus character for the fans.
DLC
[
]
Pre-order
[
]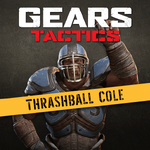 Pre-purchase Gears Tactics before April 28 and receive the Thrashball Cole Character Pack, which includes:
Augustus Cole recruit
Thrashball Armor Set with rare abilities
System Requirements
[
]
| | Minimum | Recommended |
| --- | --- | --- |
| OS | Windows 10 64-bit | Windows 10 64 bit |
| Processor | Intel i3 Skylake or AMD FX-6000 | Intel i5 Coffee Lake or AMD Ryzen 3 |
| GPU | AMD Radeon R7 260X or NVIDIA GeForce GTX 750 Ti | AMD Radeon RX 570 or NVIDIA GeForce GTX 970 |
| HD Space | 45 GB available space | 45 GB available space |
| RAM | 8 GB RAM | 8 GB RAM |
| DirectX | Version 12 | Version 12 |
Videos
[
]
References
[
]