'Gears 5' - E3 2018 - Cinematic Announce Trailer


This article is about the Real World
This article concerns new content for Gears 5.
Information in this article may change often, as new features are announced by the developers.
Please be aware that any information added to the article should be properly referenced. If it is not, it is likely to be removed.
This article is a

Stub

and needs your help. Please improve it by adding more information.

"Bound By Blood"
—Gears 5 slogan
Gears 5 is the sixth game in the Gears of War franchise. It was first announced during Microsoft's press conference at E3 2018.
Set after the events of Gears of War 4 and Gears of War: Ascendance, the world is crumbling. The Swarm has corrupted the Coalition's robot army and is descending upon human cities. With danger closing in, Kait Diaz breaks away to uncover her connection to the enemy and discovers the true danger to Sera – herself.[1]
The game's narrative is centered on Kait Diaz, as she journeys across Sera to uncover the origins of the Locust.[2][3]
New enemies and weapons will be introduced. The game supports online co-op (up to three players at a time) and splitscreen multiplayer.[4][5]
The game is releasing a new three-player co-op game mode called Escape. It follows the Hivebuster squad Team Scorpio as they make their way through Locust and Swarm enemies, escaping a gas bomb that will kill everything.
Another new mode is Arcade, in which players earn points for downs and kills that they can spend to acquire better weapons.
Appearances
Edit
Characters
Creatures
Events
Locations
Organizations and titles
Vehicles and vessels
Weapons and technology
Miscellanea
Retail Editions and Pre-Order Bonuses
Edit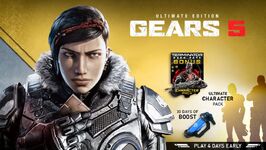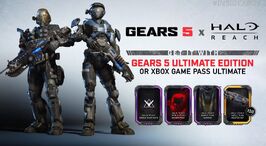 The full version of Gears 5 will release with the Standard Edition of the game on Xbox Game Pass on September 10, 2019.
Xbox Game Pass Ultimate subscribers will get access to the Ultimate Edition version of the game at no extra cost. Ultimate Edition owners will be able to play the game early on September 6, 2019. Additionally, a special Terminator Dark Fate Character pack, including Sarah Connor and the T-800 Endoskeleton from the film, will be available as a pre-order bonus. The character pack, along with a bonus Vector Lancer skin and 7 days of Boost, can also be acquired by playing Gears 5 on Game Pass prior to September 16, 2019.[6] Ultimate Edition owners and Xbox Game Pass Ultimate subscribers will also get the Halo: Reach character pack, containing 2 characters, Emile and Kat, and various Halo themed customization items. Gears 5 will also get a Collectors Edition, exclusive to GameStop.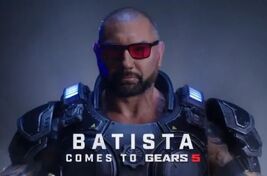 Gears 5 Ultimate Edition (Digital)
Edit
Play on September 6, 2019
Halo: Reach Character Pack
30 Days of Boost
Gears 5 Ultimate Edition (Physical)
Edit
Play on September 6, 2019
Halo: Reach Character Pack
30 Days of Boost
Exclusive Steelbook
Gears 5 Sticker Sheet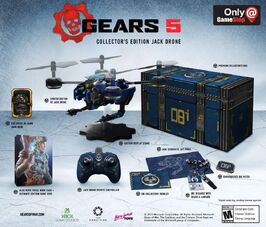 Gears 5 Collectors Edition
Edit
Limited Edition RC Jack Drone
Ultimate Edition Game Disc
Exclusive In-Game Jack Skin
Alex Ross Steel Book Case
Jack Drone Remote Controller
DBi Collector's Booklet
DBi ID Batch with Gears 5 Lanyard
Jack Schematic Art Print
Embroidered DBi Patch
Premium Collector's Box
Multiplayer
Edit
Multiplayer Modes
Edit
Multiplayer Maps
Edit
Multiplayer Characters
Edit
The game will consist of COG vs Swarm/Locust in versus multiplayer again very much like its predecessor Gears of War 4. On the 19th March 2019, the Coalition announced that players had a chance to unlock "Gilded" RAAM in Gears of War 4 by completing a set of challenges. By completing all three challenges would allow players to carry "Gilded" RAAM over to the Gears 5 Multiplayer. The Coalition stated that this would be the only way to own RAAM at launch in Gears 5 and he would be the first of several earnable characters that will be available in Gears 4 and follow you into Gears 5. Due to the challenge for players to complete, this was a direct confirmation that the Locust would return to Multiplayer.[8]
COG/Outsiders
Edit
Swarm/DeeBees/Locust
Edit
Behind the scenes
Edit
The game's existence was leaked in May 2018 via a Wal-Mart listing. It was officially unveiled at E3 2018.[9]
The game was designed to have a greater emphasis on narrative than previous instalments, reflecting shifts in the medium towards a more personal style of storytelling.[10] It is designed to build on feedback from Gears of War 4; Rod Fergusson has commented that the prior game "didn't go far enough."[5]
In a break from previous games, the game's official title is "Gears 5," dropping the "of War" part of the title. This was a change that Rod Fergusson was pushing for, as using "of War" in conjunction with titles such as Gears Pop! and Gears Tactics felt cumbersome. He noted that "Gears X" was already common shorthand to describe the numbered installments of the series.[11] Xbox marketing boss Aaron Greenberg clarified that the series itself still retains the name "Gears of War," though actual installments will simply use the "Gears" title.[10]
On the 19th March 2019, the Coalition announced that players had a chance to unlock "Gilded" RAAM in Gears of War 4 by completing a set of challenges. Once completing the challenges, this would allow players to carry over "Gilded" RAAM to Gears 5. This would be the first of several characters earnable in Gears 4 that would carry over to Gears 5. This was confirmation the Locust would return to Multiplayer.[12]
All smoking references were removed from the game; the developers worked with Truth Initiative, an anti-smoking group. According to Rod Fergusson, "I've seen firsthand the devastating impact of smoking. It's always been important for me to not use smoking as a narrative device, which is why we made the conscious choice to avoid highlighting or glorifying smoking in 'Gears 5' and throughout the Gears of War Universe moving forward."[13]
Rod Fergusson explained that Gears 5 is not the second game in a second Gears of War trilogy, but part of an ongoing saga that began with Gears of War 4: "We're trying to get out of the trilogy mindset. The word I like now is 'saga.' Just the idea that we don't want to limit ourselves to a beginning, middle, and end, one-two-three thing. 'Oh, this is the Empire Strikes Back game.' That kind of thing. For us it's just about where the story can take us and what stories we can tell. This is just a continuation of the saga."[14]
It was decided to have more levels take place during the day, in comparison to Gears of War 4 where much of the game took place at night.[15]
References
Edit
Community content is available under
CC-BY-SA
unless otherwise noted.