'Gears 5' - E3 2018 - Cinematic Announce Trailer
Play Sound


This article is about the Real World
This article concerns new content for Gears 5.
Information in this article may change often, as new features are announced by the developers.
Please be aware that any information added to the article should be properly referenced. If it is not, it is likely to be removed.
This article is a

Stub

and needs your help. Please improve it by adding more information.
"Bound By Blood"
—Gears 5 slogan
Gears 5 is the sixth game in the Gears of War franchise. Set after the events of Gears of War 4 and Gears of War: Ascendance, the world is crumbling. The Swarm has corrupted the Coalition's robot army and is descending upon human cities. With danger closing in, Kait Diaz breaks away to uncover her connection to the enemy and discovers the true danger to Sera – herself.[1] Gears 5 was released on September 10, 2019 on Xbox One and PC with 4 days of early access for those who preordered Gears 5 Ultimate Edition and owners of the Xbox Game Pass Ultimate subscription.
Following the events of the previous game, JD, Del, and Marcus are officially reinstated in the COG Army along with Kait, who is given the rank of corporal. Reformed as the new Delta Squad, they travel to the ruins of Azura at Damon Baird's request in order to launch a Hammer of Dawn satellite in an effort to restore the Hammer of Dawn network. After doing this, they return to the COG capital, New Ephyra, but Baird informs them that he still cannot locate the other satellites. First Minister Jinn finds out about the launch and orders them not to restore the network, since it would go against the wishes of the late Anya Stroud, who had decided to permanently decommission the Hammer of Dawn.
Jinn receives word that Settlement 2 is under attack by the Swarm and sends JD's squad to assist the evacuation. Accompanying them in defending the settlement are Augustus Cole, Clayton Carmine, his niece Lizzie, and Fahz Chutani, JD and Del's former squadmate. It is revealed during the battle that JD, Del, and Fahz had previously been deployed in Settlement 2 to quell a riot which resulted in the death of civilians and prompted JD and Del to go AWOL. During a heated argument with Del, Fahz reveals that JD gave him the order to open fire on the civilians, causing Del and Kait to lose trust in JD. As the Swarm attacks intensify and threaten to destroy the evacuation convoy, JD orders Baird to fire the Hammer of Dawn prematurely. While the Swarm forces are annihilated, the Hammer of Dawn malfunctions and begins firing wildly. JD saves a group of civilians but is badly injured after failing to save Lizzie from being killed by the Hammer strikes.
Four months later, Kait and Del arrive at an Outsider village situated in the skeleton of the Riftworm to try convince them to join the COG. The village chief, Kait's uncle Oscar, refuses to join, but the village is suddenly attacked by the Swarm. During the battle, Kait is captured by a Snatcher and begins experiencing vivid visions of controlling the Swarm forces. She escapes the Snatcher, but is unable to prevent Oscar's death. COG reinforcements led by JD (who is now a captain) and Fahz then arrive to evacuate the village. Kait tells everybody about her visions, and Marcus recommends she head to a secret lab at New Hope to the north to find answers, with Del deciding to accompany her against JD's objections. As they reach the lab, Marcus explains that the chief scientist, Niles Samson, had been experimenting on the children of humans suffering from Imulsion poisoning. They find clues leading them to Mount Kadar, a former Locust stronghold.
Kait and Del continue on to Mount Kadar, where they find another secret COG lab hidden beneath the ice. There, they find Niles still alive as an AI construct and uncover the frozen remains of COG personnel and Locust. Niles explains to them that the Locust were the result of his secret genetic experiments, by manipulating the DNA of children infected with Imulsion and hybridizing them with the indigenous creatures of the Hollow. He also reveals that Queen Myrrah was originally a human who possessed a complete immunity to Imulsion and could control the Locust due to her genetics being used to create them. However, when her new-born daughter Reyna, Kait's dead mother, was spirited out of the lab by her father, Myrrah led the Locust to rebel against the scientists and gain their independence. Kait panics when she realizes she is the next queen, and demands that she be separated from the Swarm's hivemind. Niles puts Kait in a special brain scanning machine connected to a dormant Berserker called the Matriarch, which successfully severs Kait from the hivemind but also resurrects Reyna in the process as her consciousness still resides in the hivemind. Niles then flees, revealing that he has intentionally revived Reyna to let the Swarm finish what the Locust started. Niles is soon destroyed by the revived Matriarch and Kait and Del kill it before escaping the facility. Realizing Reyna is now the new Swarm queen, Kait reaffirms the COG's need to reactivate the Hammer of Dawn.
Sometime later, Baird takes the group to Vasgar, where the Union of Independent Republics' secret space program was located. Baird reunites with his former squadmate Garron Paduk, who is now the leader of a group of nomads surviving in the desert. Paduk reveals that the UIR had a rocket loaded with Hammer of Dawn satellites ready to launch, a fact both the COG and UIR kept secret from the public. He also reveals that the Swarm have recently become more organized and have developed new weapons and armor. Realizing that the Swarm's increased intelligence is the result of Reyna's resurrection, Kait, Del, and Baird resolve to reactivate the Hammer of Dawn as soon as possible. JD and Fahz also arrive to help Kait, with JD apologizing to Del and Kait for his previous deception. The squad manage to assemble and launch the rocket and acquire targeting beacons to help control the Hammer of Dawn, though they are soon confronted by a massive Swarm creature called the Kraken. The group barely manages to escape it when Paduk picks them up in a helicopter to fly them home.
Upon returning to New Ephyra, the group makes plans to launch the Hammer of Dawn. Jinn attempts to arrest Kait, intending to forcibly connect her to the hivemind to control the Swarm. Before she can do this, however, the Swarm attacks New Ephyra. The Gears attempt to set up UIR targeting beacons to provide targeting data to the Hammer of Dawn, but the Kraken destroys them. Reyna, now transformed into the Swarm's queen, appears and attacks Kait, JD, and Del, forcing Kait to choose to save either JD or Del, leaving Reyna to kill the other. Kait and the survivor fight their way back to their friends but are attacked by the Kraken. The remaining soldiers fall back to New Ephyra's outer wall to fight off the Kraken and are soon overwhelmed until the squad's robotic companion, Jack, kills the Kraken by sacrificing itself as a targeting beacon for the Hammer of Dawn. In the aftermath, Marcus warns Kait that Reyna will return, with Kait remarking that they will find her first before discarding her mother's Locust necklace.
New enemies and weapons will be introduced. The game supports online co-op (up to three players at a time) and splitscreen multiplayer.[2][3]
The game is releasing a new three-player co-op game mode called Escape. It follows the Hivebuster squad Team Scorpio as they make their way through Locust and Swarm enemies, escaping a gas bomb that will kill everything.
Another new mode is Arcade, in which players earn points for downs and kills that they can spend to acquire better weapons.
By type
Characters
Creatures
Events
Locations
Organizations and titles
Vehicles and vessels
Weapons and technology
Miscellanea
Retail Editions and Pre-Order Bonuses
[
edit
|
edit source
]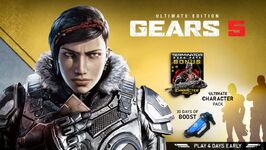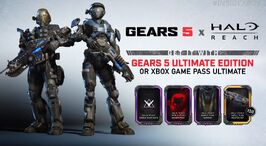 The full version of Gears 5 was released with the Standard Edition of the game on Xbox Game Pass on September 10, 2019.
Xbox Game Pass Ultimate subscribers received access to the Ultimate Edition version of the game at no extra cost. Ultimate Edition owners were able to play the game early on September 6, 2019. Additionally, a special Terminator Dark Fate Character pack, including Sarah Connor and the T-800 Endoskeleton from the film, was available as a pre-order bonus (it is now available as a DLC pack). The character pack, along with a bonus Vector Lancer skin and 7 days of Boost, could also be acquired by playing Gears 5 on Game Pass prior to September 16, 2019.[4] Ultimate Edition owners and Xbox Game Pass Ultimate subscribers also got the Halo: Reach character pack, containing 2 characters, Emile and Kat, and various Noble Team themed customization items. Gears 5 also received a Collectors Edition, exclusive to GameStop.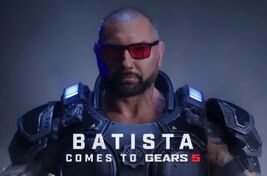 Gears 5 Ultimate Edition (Digital)
[
edit
|
edit source
]
Play on September 6, 2019
Halo: Reach Character Pack
30 Days of Boost
Gears 5 Ultimate Edition (Physical)
[
edit
|
edit source
]
Play on September 6, 2019
Halo: Reach Character Pack
30 Days of Boost
Exclusive Steelbook
Gears 5 Sticker Sheet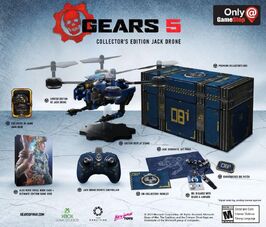 Gears 5 Collectors Edition
[
edit
|
edit source
]
Limited Edition RC Jack Drone
Ultimate Edition Game Disc
Exclusive In-Game Jack Skin
Alex Ross Steel Book Case
Jack Drone Remote Controller
DBi Collector's Booklet
DBi ID Batch with Gears 5 Lanyard
Jack Schematic Art Print
Embroidered DBi Patch
Premium Collector's Box
Versus/Horde maps
Free-For-All maps
Escape maps
The game consists of COG vs Swarm/Locust in Versus multiplayer, much like its predecessor Gears of War 4. On the 19th March 2019, the Coalition announced that players had a chance to unlock "Gilded" RAAM in Gears of War 4 by completing a set of challenges. By completing all three challenges would allow players to carry "Gilded" RAAM over to the Gears 5 Multiplayer. The Coalition stated that this would be the only way to own RAAM at launch in Gears 5 and he would be the first of several earnable characters that will be available in Gears 4 and follow you into Gears 5. Due to the challenge for players to complete, this was a direct confirmation that the Locust would return to Multiplayer.[5]
Each season's Tour of Duty in Gears 5 offers the chance to unlock various character skins, weapon skins, and other cosmetics. New characters could be unlocked by purchasing them with 500 Iron (a bonus of 3 days of Boost is included with this method) or spending 100 Scrap to obtain their Totem and then completing that Totem's various challenges. This mechanic was scrapped later Operations, with the current mechanic introducing Gear Coins, which can be earned by completing medals, leveling up in the Tour of Duty, or by simply playing the game. These coins can then be used to purchase almost any cosmetic item they want, or use the coins to upgrade cards in Horde and Escape.
In Gears 5, characters are classified as either "Heroes" or "Villains". Heroes are COG team characters, and include Ultimates and Skills for PvE modes as well as Passives and Loadouts for Arcade. Villains are Swarm team characters with mirror versions of COG team Arcade Passives and Loadouts, but no Ultimates or Skills since they are not playable in PvE modes.[6]
Tai Kaliso (

Common

) (Unlocked with Gears Coins in the Store)
Dizzy Wallin (

Common

) (Unlocked with Gears Coins in the Store)

Stranded Dizzy (

Rare

)
Hivebuster Dizzy (

Rare

) Unlocked with Gears Coins in the Store

Gabriel Diaz (

Common

) (Unlocked through completing the Tutorial Mission in Gears Tactics or by using Gears Coins in the Gears 5 Store)
The game's existence was leaked in May 2018 via a Wal-Mart listing. It was officially unveiled at E3 2018.[7]
The game was designed to have a greater emphasis on narrative than previous instalments, reflecting shifts in the medium towards a more personal style of storytelling.[8] It is designed to build on feedback from Gears of War 4; Rod Fergusson has commented that the prior game "didn't go far enough."[3]
In a break from previous games, the game's official title is "Gears 5," dropping the "of War" part of the title. This was a change that Rod Fergusson was pushing for, as using "of War" in conjunction with titles such as Gears Pop! and Gears Tactics felt cumbersome. He noted that "Gears X" was already common shorthand to describe the numbered installments of the series.[9] Xbox marketing boss Aaron Greenberg clarified that the series itself still retains the name "Gears of War," though actual installments will simply use the "Gears" title.[8]
On the 19th March 2019, the Coalition announced that players had a chance to unlock "Gilded" RAAM in Gears of War 4 by completing a set of challenges. Once completing the challenges, this would allow players to carry over "Gilded" RAAM to Gears 5. This would be the first of several characters earnable in Gears 4 that would carry over to Gears 5. This was confirmation the Locust would return to Multiplayer.[10]
All smoking references were removed from the game; the developers worked with Truth Initiative, an anti-smoking group. According to Rod Fergusson, "I've seen firsthand the devastating impact of smoking. It's always been important for me to not use smoking as a narrative device, which is why we made the conscious choice to avoid highlighting or glorifying smoking in 'Gears 5' and throughout the Gears of War Universe moving forward."[11]
Rod Fergusson explained that Gears 5 is not the second game in a second Gears of War trilogy, but part of an ongoing saga that began with Gears of War 4: "We're trying to get out of the trilogy mindset. The word I like now is 'saga.' Just the idea that we don't want to limit ourselves to a beginning, middle, and end, one-two-three thing. 'Oh, this is the Empire Strikes Back game.' That kind of thing. For us it's just about where the story can take us and what stories we can tell. This is just a continuation of the saga."[12]
It was decided to have more levels take place during the day, in comparison to Gears of War 4 where much of the game took place at night.[13]
Gears 5 received "generally favorable" reviews on Metacritic getting a metascore of 82/100 on PC[14] based on 24 critic reviews and 84/100 on Xbox One[15] based on 89 critic reviews.
Community content is available under
CC-BY-SA
unless otherwise noted.