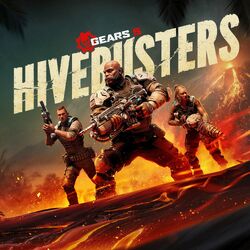 "Right. Sorry to be late and all. We survived a horrific Condor crash, fought an endless horde of monsters from hell and barely escaped with our lives, but, uh... how's your day been?"
Gears: Hivebusters is a DLC campaign for Gears 5. It was released on December 15, 2020.
Campaign
[
]
Return to Gears 5 with the new Hivebusters campaign expansion. Play as Lahni, Keegan and Mac – the heroes of Gears 5's Escape mode – on their first operation as part of the secretive Hivebuster program. Thrown together and dubbed "Scorpio Squad," their suicide mission to destroy a Swarm hive may hold the key to saving Sera and their own redemption.[1]
Appearances
[
]
By type
Characters
Creatures
Events
Locations
Organizations and titles
Vehicles and vessels
Weapons and technology
References
[
]