This article concerns new content for Gears of War 4.
Information in this article may change often, as new features are announced by the developers.
Please be aware that any information added to the article should be properly referenced. If it is not, it is likely to be removed.
Foundation is a multiplayer map in Gears of War 4. It is set in the construction area of a new COG settlement, with verticality being a key part of the map.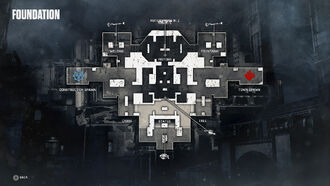 Behind the scenes
Edit
At the Torque Bow spawn, there is a memorial statue with the names of those who fought in the Battle of Aspho Fields on the back of it.[1] The listed names are:
References
Edit