A Fishing Boat is a small sea vessel used to haul seafood throughout the oceans of Sera. They are much smaller than a Fishing Trawler or those that has been converted to military use. They are sometimes accompanied by Rowboats when fishing off the coast.[2]
Overview
[
]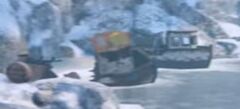 These trawlers are one of the main workhorses for both the Coalition of Ordered Governments and the Union of Independent Republics for naval commerce and trade. While they could haul less fish than their larger ship cousins, they are an important source of food for coastal cities.
These vessels are part of the Coalition of Ordered Governments Merchant Navy and form one of the backbone of their fleets.
During the Lambent Pandemic, Fishing Boats became vulnerable to Lambent marine organisms that would either attack of explode on board the boat, sinking it in the process.[3][4]
Known Fishing Boats
[
]
References
[
]