Raise a Floppa - The Loop
Play Sound

A Dual Chainsaw Staff was a Kantus staff[1] with chainsaws attached to each end. It was wielded by the High Priest Skorge. The chainsaws on each end of the staff were very powerful, added to by Skorge's strength. The Dual Chainsaw Staff was able to cut through a Centaur tank like it was nothing and cut down large stone pillars with ease.
History
[
]
Operation: Hollow Storm
[
]
Landown Counterattack
[
]
During the Assault on Landown, when the Locust's forces were about to retreat, Skorge burst from an Emergence Hole, bringing with him Locust reinforcements. He and his reinforcements proceeded to assault the COG dig zone, killing several Gears. Skorge lept up onto a nearby Centaur tank, cutting it completely in half with his Dual Chainsaw Staff, destroying the vehicle and killing the Gears inside. He then jumped onto Rig 314 and engaged in a chainsaw duel with both Cpl. Tai Kaliso and Pvt. Dizzy Wallin at the same time.[2]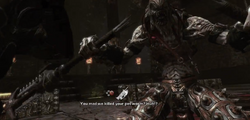 Siege of Nexus
[
]
Later, when the Coalition of Ordered Governments assaulted Nexus, Skorge fought Marcus Fenix and Dominic Santiago in the Queen's throne room inside Nexus at the order of Queen Myrrah. Skorge began by jumping up onto a chandelier and using his staff to cut it down, almost hitting Marcus. He then proceeded to jump down and challenge Marcus to a chainsaw duel. At first he had the upper hand but then Marcus started to overpower him. Trying to defend himself, Skorge used the middle of his staff to block Marcus' chainsaw, which lead to it being cut in half. Skorge then jumped away and started to cut down large rock pillars with the two staff ends in an attempt to crush Marcus and Dom. He then proceeded to challenge Marcus to two more chainsaw duels. After losing both of them, which destroyed the chainsaws on the staff pieces, he then escaped on his Hydra mount, leaving the pieces of his staff behind in the throne room.[3]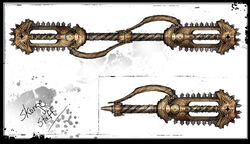 Behind the scenes
[
]
Skorge's original concept had him wearing a large chainsaw melee weapon attached to his forearm, but it didn't pan out in the designs so the developers instead came up with the concept for the Dual Chainsaw Staff.[4]
It was highly propable that the Chainsaw Staff was originally a normal Kantus Staff before it was modified.
Appearances
[
]
References
[
]