Raise a Floppa - The Loop
Play Sound
"You know how long I worked on this fucking house alone? You know what it's like being a fucking hermit? Fixing a house? There's no Home Depot out here, you fucking assholes. Fucking tomatoes… they fucked my tomatoes up! Goddammit! Add that to the fucking list. Goddammit! Those are Dom's for Christ-sake's – I grew those from Dom's seeds. Fuck! Those are Dom's goddamn seeds, for christ-sake. I'm never gonna have another good sauce fuckin' again. I can't make Dom's sauce! Fuck you guys. It's bullshit. Fuckin'… Damon Baird, you're a cock!"
Dom's Toms are unique Bolo Grenades that can be found in the Greenhouse of the Stroud Estate during Act 2 Geared Up in Gears of War 4.
These grenades are simply giant tomatoes that explode in a saucy mix. Although there is the swinging animation, the player actually holds the tomato in full. There are only six of these tomatoes, more than the maximum amount of bolo grenades you can carry, but it cannot be restocked, so use them wisely.
Getting the Weapon
[
]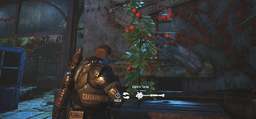 To acquire these grenades, play through Chapter 2 till you reach the greenhouse and shoot every potted plant inside (specifically, the tomato plants). Doing this will cause Marcus to go on a monologue rant about his tomatoes.
After he's finished, the grenades will spawn in as a tomato plant. Picking them up will give you six explosive tomatoes that explode like normal, but detonate into tomato juice.
Behind the Scenes
[
]
This is a direct reference and callback to Dom's tomato plants at the beginning of Gears of War 3. Marcus's rant is similiar to the rant espoused by Dom against the Lambent for 'fucking up my tomatoes!'.
Marcus used the tomato seeds from Dom as a form of remembrance to his fallen comrade. It is also a growing business seeing as how crates of Marcus's tomatoes appear in the Riftworm Village.

There is also a related easter egg in the Riftworm Village where destroying all the potted tomato plants within the florist's shop would also trigger a similar rant.
There's also a quote for Marcus in the customisation menu for Gears Of War 5 that references the tomatoes
Appearances
[
]