Raise a Floppa - The Loop
Play Sound
The Coalition of Ordered Governments' Defence Missile System was a series of extremely large missile artillery batteries used as defense weapons at the height of the Pendulum Wars. These assets were critical in the defense against COG fortifications and emplaced bunkers. They often come assisted with Ball Turrets to fend off smaller targets such as infantry.
Overview
[
]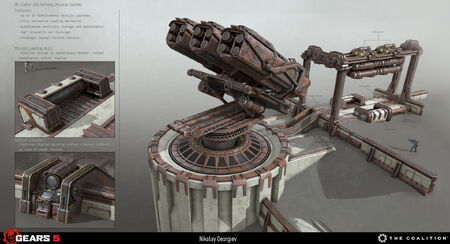 The Defence Missile System came in three parts: the subterranean munitions storage, the loading mechanism and the missile turret.
The weapons' missile ammunition is stored in a underground storage connected to a bunker, which provides protection against counter-battery fire and allows proper maintenance that keeps the sophisticated cameras on the missiles operable. The missiles themselves are capable of both surface-to-surface and surface-to-air capabilities, although they are more suited for the former.[1]
Reloading the weapon system came in the form of a complex automated conveyor system, in which up to two missiles can be lifted via a missile loading belt. The missiles are than picked up and transported through a specially built loading crane before being fed through the missile tubes.[2]
The missile turret covers a 360 degree ground-to-air coverage and could hold up to 12 missiles at a time. The missiles are targeted through a digital guiding system via a computer. However, in times of power failure, a manual control system is available via a control console.[3]
The size of the missiles made them exceptionally dangerous to armored vehicles, often destroying APCs from the UIR in a single hit. However, the missiles were known to fly sporadically and may miss its target either due to disrepair and lack of maintenance from the main targeting computer.
Behind the Scenes
[
]
Easter Egg
[
]
There is an easter egg where you would need to break 43 bottles and jars thoughout the multiplayer map Bunker in a certain time limit. Once you have successfully shot all bottles/jars, there would be a kickable box around the right lookout area in the Pariah Spawn, that allows you to gain entrance to a ledge. Here, you will see a UIR APC chasing down a COG Armadillo, until the maps' Missile Artillery starts to fire its payload and destroy the UIR vehicle. After which, every player would spawn a rusted COG Gear helmet regardless of their faction until they are killed. [4]
Appearances
[
]
Video
[
]
References
[
]