The Corva was an older model of helicopter entering its final stages of use in 17 B.E., but were still occasionally used afterwards. They were slow and used a lot of fuel.[1]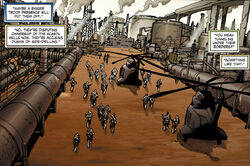 Pendulum Wars Service
Edit
The Corva was the workhorse of the Coalition of Ordered Governments Air Corps during the Pendulum Wars, despite it being slow and using up a lot of fuel. It was the COG Army's primary transport helicopter since 17 B.E. and was used in several theaters of the Pendulum Wars. By 4 B.E., it was being replaced by the controversial King Raven and other helicopters instead of fixed-wing aircraft.
Siege of Anvil Gate
Edit
During the Siege of Anvil Gate in 17 B.E., a Corva, CC-Seventy-Four-Five, was sent to resupply the garrison at Anvil Gate. It was destroyed by an Indie RPG.[2]
Acastu Imulsion Fields
Edit
In 4 B.E., two Corvas, including CC-4005, transported C Company of the 26th Royal Tyran infantry to the Acastu Imulsion Fields in Dushin.[3]
Known Corva's
Edit
Behind the Scenes
Edit
The Corva has a slight but unmistakable resemblance to the French Army SA 330 Puma.
References
Edit
↑ Gears of War: Anvil Gate pg 382
↑

Gears of War: Anvil Gate pg 381-384
Community content is available under
CC-BY-SA
unless otherwise noted.