Raise a Floppa - The Loop
Play Sound
The Brumak Rocket Launcher is the primary weapon of the Brumak and the Swarmak. This long, four-barrelled rocket launcher sits on top of the Brumak's shoulders and overhangs above its head. The weapon fires four rockets in a quick cycle similiar to a burstfire - one from each barrel - at the target.
The weapon was powerful enough to seriously damage an Assault Derrick and cripple a Centaur, if not outright destroy it. The gunner set directly behind the end of the weapon, in which a targeting computer was presented.
Strategy
[
]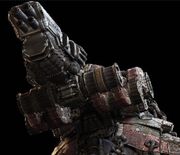 In Gears of War 2, after hijacking a Brumak, the creature controls similar to a normal player, albeit more ungainly and slower. The rocket launcher is a formidable weapon with limited homing abilities, capable of destroying Reavers from the air and shattering giant stalactites in a few shots. Caution should be added that the weapon is not the most accurate as the rockets are known to spread apart and move sporadically. The rocket launcher has a brief cooldown period after every shot, although it is not shown in the game's hud. Instead, reserve the weapon for groups of enemies or giant creatures/buildings such as a Torture Barge.[1]
On Horde 2.0 in Gears of War 3, the Rocket Launcher is a dangerous weapon as the explosive radius of the rockets could damage players behind cover. Instead, try and hide inside small enclosures such as container crates or rooms to avoid the full damage of the weapon. The weapon launches four rockets consecutively in a quick fashion, so one must be cautious at knowing when to leave cover as it will instagib on higher difficulties.[2]
Behind the Scenes
[
]
These weapons underwent a cosmetic change. In Gears of War, the Rocket Launcher along with the Wrist-Mounted Chain Gun, had only one barrel, however in later installments, the weapon was upgraded with additional rocket barrels.[3]
Appearances
[
]
References
[
]