Delta reunited and entered the Locust Palace and fought their way through. There, they learned from a transmission from the Queen that the Locust planned to sink Jacinto in order to kill the Lambent Locust. During their journey through the palace, Delta found a terminal that JACK hacked into and found a recording from Adam Fenix. The recording said that the best way to win the war was to sink Jacinto and flood The Hollow to drown the Locust. Delta finally made it to the Queen's chamber where they had an encounter with the Queen and Skorge. The Queen escaped, leaving Marcus and Dom to fight Skorge while Cole and Baird chased after her. Marcus and Dom defeated Skorge who escaped on the Hydra and Delta took the two Reavers to return to Jacinto. After rescuing another Gear squad and destroying the Hydra and killing Skorge, Delta returned to Jacinto and as part of the new plan, the COG began to evacuate all Gears out of the Hollow including Nexus.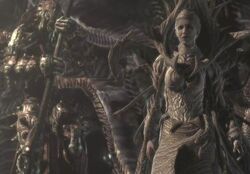 References
Edit
Community content is available under
CC-BY-SA
unless otherwise noted.